Yianni Agisilaou: I, Human
By Caro Moses | Published on Saturday 2 June 2018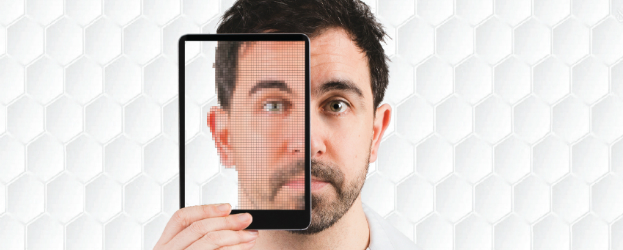 We love him – to the extent that we once gave him a ThreeWeeks Editors' Award – so we are always pleased when we hear that we'll be able to see Yianni Agisilaou at the Edinburgh Fringe once again. And with a brand new show!
One of the things we really like about Yianni is that he always tackles really interesting themes in his shows. In recent times that's included feminism and The Simpsons, and now he's turning his attention to the subject of  technology, artificial intelligence and our human relationships with those things.
As you can imagine, I was keen to find out more, about this new show, about why he keeps coming back to Edinburgh, and, well, you know, what he's been up to lately.
CM: So, you're headed back to the Edinburgh Fringe again: what keeps you coming back? Is it good to have a deadline?
YA: Loving the Fringe keeps me coming back! There really is nothing like the Edinburgh Fringe anywhere else in the world. Also, it's my first time performing at the Pleasance, so that'll be novel. It is good to have a deadline, yes, but I did this show for the first time at Perth Fringe, so my deadline was in January!
CM: You say there's really nothing like the Edinburgh Fringe anywhere else in the world. What specifically make's it stand out? 
YA: The audiences are different to any other festival in the world – it's a festival where there is literally something for everyone's interests, and people will often come and take a chance on shows that they haven't heard of before. Also, during my time off, I get to watch some of the best art in the world. And, of course, being in the same place as a lot of friends I don't see as often as I'd like for the rest of the year is a lovely part of every Edinburgh Fringe.
CM: Are there any downsides to performing in Edinburgh? Is there anything about doing the Fringe that makes your heart sink?
YA: There's a lot of pressure trying to fill a room with punters. The job extends so much further than just being funny on stage. The fact that the product being promoted is you means it's easy to quantify your self-worth by attendance and coverage. The never-ending pressure to 'have an online presence' and 'create content' means you could literally work 24 hours a day and still have more to do.
CM: What have you been up to since last August? We loved last year's show, of course: have you been on tour with it?
YA: I performed it one more time in London after the Fringe, because it was commissioned by ABC TV in Australia. We're currently exploring options of touring it around the UK, following on from the UK tour of my Simpsons show which I did after the Fringe last year.
I've also got a TV concept which I'm starting to develop in Australia, but mostly I've been writing this show and performing it – and my other show 'Comedians Against Humanity' – on the Australian festival circuit. I was at the fringe festivals in Perth and Adelaide, and the comedy festivals in Canberra, Melbourne and Sydney.
In all I've performed 106 – and counting! – full shows since last Edinburgh Fringe and I don't even know how many gigs in between.
CM: Right, so let's get on now with this year: what themes can we expect from your new set?
YA: It's about technology and humanity. How one affects the other. Whether Facebook is listening in to you. What 63% of Americans getting their news from Facebook means for an informed population. Whether artificial intelligence will take everyone's jobs. And what this means for who we are as humans.
Things like artificial intelligence are much more ubiquitous than we realise. If you use Google Maps, you use AI. AI is deciding which news we see and by extension, what we think. These are important questions to us all.
CM: What made you decide to tackle this subject?
YA: It's fascinating, interesting and relevant. It's a human story that we're all part of whether we know it or not. If you're a tin foil hatter, it might set certain fears at ease and exacerbate others. If you're a tech head, it might give you some pause about charging full steam ahead. Plus it makes a VR headset tax deductible (TAX ADVICE – may not make a VR headset tax deductible!).
CM: What are your own habits re technology like? Are you a smartphone addict or do you find it easy to step away?
YA: I definitely don't find it easy to step away. I go through phases. I am thoroughly addicted to the torrent of information at my fingertips. But I have turned off notifications for a lot of apps so that I'm not triggered to check my phone as often as I used to be. Call me an addict in recovery?
But that said, the same technology allows me to stay in touch with friends and family across the world which, given that I've spent half my life in the UK and the other half in Australia, is so valuable.
CM: Does the way things are going with robots and suchlike worry you, or not? Are you optimistic or pessimistic about the future?
YA: Both. I feel optimistic that scientists and engineers will create wondrous world-changing things. And pessimistic about politicians regulating their use in a way that benefits most people.
At least I don't have to worry about losing my job to AI. It's terrible at humour. Jobs safest from automation are creative jobs and jobs with an emotional component, which sums up stand-up pretty well! If you're a nurse, psychologist or a human statue come along and hear how you have a job for life!
CM: What other shows are you planning to see at the Fringe this year?
YA: I always get along to see Mark Watson (because he's hilarious), Rob Broderick (because he's hilarious) and Elf Lyons (because she's, well you get the idea)
And I'll definitely see 'Garry Starr Performs Everything' again, because I saw it in Australia and it was brilliant. I will probably go and watch 'Comedians Against Humanity' every night (DISCLAIMER – I'm hosting it), after which time I'll head to 'Spank'.
CM: What advice would you give to a stand-up taking a show up there for the first time this year?
YA: Work as hard as you can on your show. But mostly, watch lots of stand-up and take notes on what's good and what's bad, and remember to have fun. This job has lots of challenges, but it should be fun and rewarding and you should work with great people who make you remember that. Also, try to keep fit and take a day or two off drinking a week.
CM: What plans do you have for the future? Do you have any grand and unfulfilled ambitions?
YA: I just turned 40. My ambitions extend no further than a cup of tea and a digestive. One day I hope to have done enough yoga to touch my toes again. Seriously though, I have written an animated series where the two main characters are Noah and God. In the future, I'd like to get that produced.
CM: And finally, what's coming up next for you after the Fringe?
YA: I am taking a holiday to Cyprus. An actual holiday where I don't have to do comedy things. It's gonna be great! Then I'll have some more shows in the UK and in Australia, so working out all the travel plans for that.
Yianni performed 'I, Human' and hosted 'Comedians Against Humanity' at Pleasance Dome at Edinburgh Festival 2018.
LINKS: ycomedian.com
Photo: Richard Grebby Photography
---
---
READ MORE ABOUT: Pleasance | Yianni Agisilaou
---
---
---
---