Will Close and Rose Robinson: Great British Mysteries
By Chris Cooke | Published on Monday 6 August 2018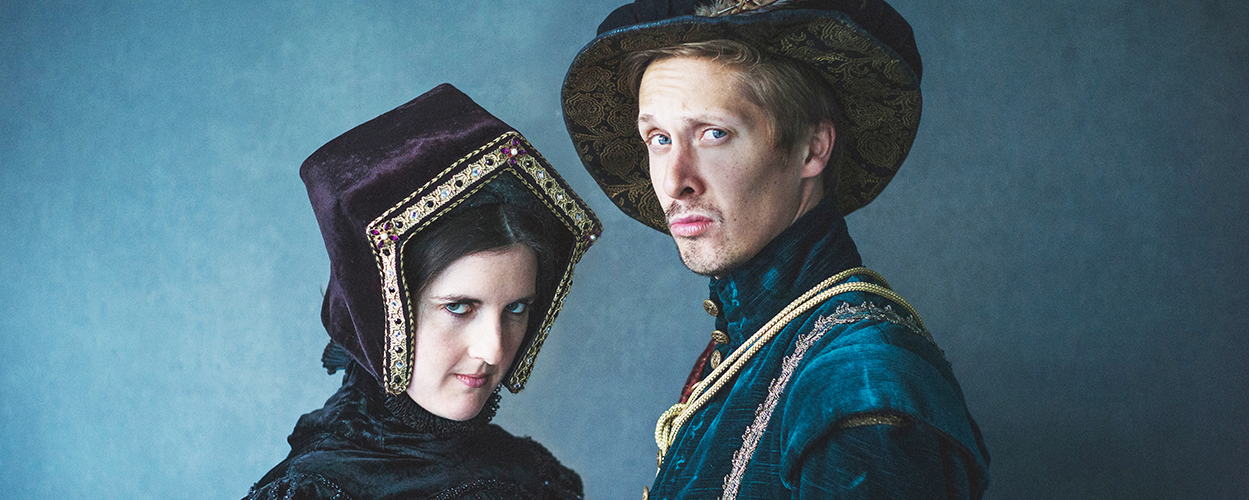 Last year Will Close and Rose Robinson teamed up for 'Great British Mysteries', described as a "live mockumentary adventure investigating monsters, myths and Noel Edmonds". This year the duo return with a sequel, except this time it's set in Tudor times, which possibly makes it more of a prequel. Though the central characters and all-round silliness are the same.
Keen to find out why they'd decided to shift the show back four centuries, we sent some questions in the general direction of both Will and Rose.
CC: So what's the concept of 'Great British Mysteries: 1599'? What can we expect from the show?
WC+RR: Mystery-addicts Olive and Teddy find themselves in Tudor times. There's a witch on the loose in London and it's up to them to sniff her out. What follows is a whistle-stop tour of life in the 1590s underscored by the pop culture of the 1990s. If you like your comedy a little bit alternative and you remember the back-catalogue of All Saints this might flick your switches.
CC: Where did the idea for the new show come from?
WC+RR: When we originally sat down with some new ideas last autumn, we thought about doing a show set in Victorian London. But after sitting on the idea for a few weeks it just felt that the period had been 'done a bit'. So we instead kicked around the notion of chucking the ideas even further back in time and, after realising we all had a shared passion for Henry VIII's libido, the Tudor era seemed like a natural fit.
CC: This is a sequel to your 2017 show. How do the two compare?
WC+RR: It's sort of a sequel. Sort of a prequel. Our debut show found Olive and Teddy tackling mysteries in the 1990s in a TV show format. It was very much a live mockumentary where the duo looked into an eclectic smorgasbord of British enigmas. In the new show, we operate a lot more in storyteller mode, so it borrows from shows like 'Woman In Black', whereby we talk directly to the crowd a lot more. That feels like a nice change after last year's format had been a bit more 'distanced'. The silliness, however, very much remains.
CC: So what was it that attracted you to the Tudor era in particular?
WC+RR: Primarily, we all fancy Anne Boleyn. But apart from that, it feels like a period in British history ripe for a pair of inept mystery hunters to be at large. The world had a lot less facts and a lot more guesswork, so for Olive and Teddy – who thrive on speculation – this seemed like the perfect time to operate. Magic was widely considered to be real, monsters were factual and the whole planet was a mystery in itself. Plus, 'Wolf Hall' was really good.
CC: Tell us a bit about yourselves, how did you get into this performing lark?
WC+RR: Rose played Daddy Bear at primary school, causing several children to cry, and from that moment on she was hooked. Will was a ghost at Warwick Castle's scare attraction in his gap year. These two great performances united when we met at Mountview in 2011. We began dicking around together soon afterwards and were then both cast in the show 'Golem' by the company 1927, which we did at the Young Vic for a couple of months before touring internationally for the best part of two years. That gave us a lot of time to scheme together the world of 'Great British Mysteries', in which we've been happily hiding ever since.
CC: We previously saw you at the Fringe as part of sketch outfit Mixed Doubles. Can we expect any more sketch goodness from you in the future?
WC+RR: 'Great British Mysteries' is a storytelling-come-comedy-come-sketch mash-up, so whilst not having the same 'lights up, lights down' format of a classic sketch show, it moves around rapidly. And we both multi-role as various weird denizens of Tudor London. So we still keep the dream alive. Sketch 4 Eva!
CC: What attracts you back to the Edinburgh Fringe each year?
WC+RR: The Jacket Potato Shop. The drizzle. The inevitable rollercoaster of morale whereby you feel like King of the world one minute and dog poop the next. It's the best melting pot in the world, and although it can have very hard moments, it is the best buzz of the year.
CC: Who's your favourite Tudor and why?
WC+RR: Oooh. Now that's a controversial question. We often have this conversation and it ends in Will crying and Rose refusing to speak to anyone for several hours. We love Cardinal Wolsey and Cromwell. Anne of Cleves is a babe and Henry VIII is the real macdaddy. He's like the Tony Soprano of Tudor times.
CC: What other period in history do you think might work well for a Great British Mystery?
WC+RR: Britain under Roman rule might be fun. The dynasty of deities, the intricacies of underfloor heating and life in the Coliseum all seem like subjects Olive and Teddy could really get their teeth into. I don't know what they'd make of the minotaur but I'm pretty sure they'd be very interested in what's under his loincloth.
CC: Looking beyond the Festival, what have you guys got planned next?
WC+RR: We'll go back to London and sleep for a few weeks and then meet up for an enormous coffee and discuss what's next. We'll hopefully do '1599' in London at some point and we have a few gigs booked in across the autumn. As for what show could be next, we've half kicked around the idea of a 'Great British Mysteries' show set far in the future. A Britain where no mysteries are left, Teddy is a cyborg and we really do live under water.
'Great British Mysteries: 1599?' was performed at Pleasance Courtyard at Edinburgh Festival 2018.
Photo: Michael Shelford
---
---
READ MORE ABOUT: Great British Mysteries | Pleasance | Rose Robinson | Will Close
---
---
---
---