The Venue Directors: The team from Paradise Green
By Chris Cooke | Published on Saturday 11 August 2018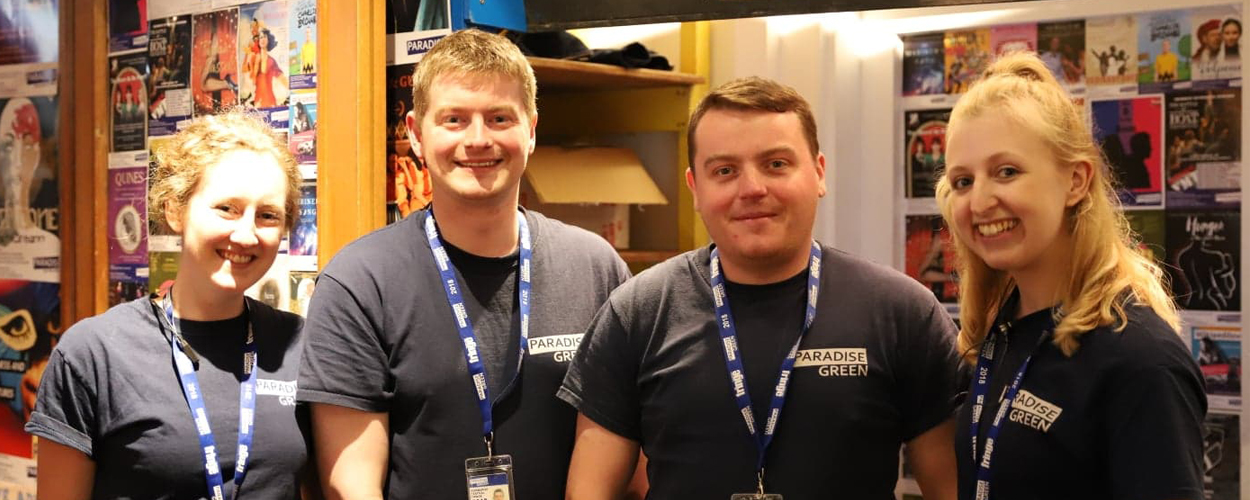 We're talking to people who perform or work at the Edinburgh Festival each year to get their perspectives on what performing or producing at the world's biggest cultural event involves. This includes the people who run the numerous venues that pop up each year at the Edinburgh Fringe – this time the team from Paradise Green.
They run two Fringe venues each year: Paradise In Augustines and Paradise In The Vault. Having been active at the Festival for over two decades, this organisation is owned by a membership made up of around 75 people who have worked as a volunteer at the venue at some point. They appoint a board to oversee things during each Festival.
That board currently includes Jemma Wark, Andrew Simner, Tom Lyall and Kayleigh Drake who collectively answered our questions as Team Paradise Green.
CC: How did you first get involved in the Fringe?
TPG: The four of us in the picture all started at different times. From left to right, first is Jemma. This is her fifth year of volunteering with Paradise Green and second year on the board. Friends recommended she get involved with the venue, so she applied, came along one summer, and never looked back.
Next in line is Andrew, who started here in 2010 and has served on the board for four years. Like many people at Paradise Green, he found out about the company whilst studying at the University Of Manchester. After starting as a technician he swapped over to the front of house team and now spends most of his time tinkering with the box office system.
Tom first got involved in 2009 while he was a student at the University Of Manchester. Again, friends of his recommended working at the venue and he has been back every year since! He got elected to the Paradise Green board in 2014 and is currently the second longest serving director.
Finally, standing on the right handside is Kayleigh. She is our newest director, having first volunteered for Paradise Green in 2016 and now a fully fledged member of the board.
CC: Give us a quick history of the Paradise Green venues.
TPG: The Paradise Green team originally ran Greyfriars Kirk House from 1995 to 2006, at which point the building stopped being available for the Fringe due to planned redevelopment.
Paradise Green itself was then established in early 1997 to provide a formal framework for the continued success of Greyfriars Kirk House and to allow for expansion to other venues during the Festival.
We added Augustines, now called Paradise In Augustines, in 1998, which has since become a lively, popular and successful venue with a reputation for award-winning theatre and musicals. To celebrate our tenth anniversary we added The Vault – now Paradise In The Vault – which has two beautiful and intimate spaces.
CC: Talk us through the spaces you run now.
TPG: We run four spaces across our two venues. Our largest spaces are both in Paradise In Augustines, with the Sanctuary and the Studio both having around 100 seats each. These both have a fantastic technical specification, especially well-suited to large-cast musicals and drama.
Paradise In The Vault is home to our two smaller, intimate spaces: a purpose built 42 seat theatre as the main performance area and a second 45 seat space that is transformed anew each year. This venue tends to cater for more experimental productions and new work.
CC: What is involved in setting them up each year?
TPG: Our build week – known as Week Zero to our staff – is always hectic, but the sense of achievement when you get to the end and see the transformation is great. We have a great build team who can work absolute miracles solving problems we never expected to find! And we're fortunate enough to have very understanding landlords, so we're able to work with them to make the spaces into what they need to be.
CC: What does being a venue director involve?
TPG: There are eight directors here who cover everything from staffing to programming, training to finance, with responsibilities split between the team based on their strengths and interests.
Like all our staff, we are volunteers and run our business with a shared passion for the Fringe. Throughout the year we run the company on top of our day jobs, with regular board meetings in the evenings.
When the Fringe comes around we run the office, but also get involved on the shop floor working on the box office and as a technician.
CC: How do you select the shows that appear at your venue?
TPG: We have an open-access programming policy, which means we will try and find a slot for anyone who wants to perform at the Fringe. We prioritise returning companies and try to make sure that we match the right shows to the right spaces. We love seeing performers return, though roughly two-thirds of them are new to us each year. Over time our venues have established their reputations, with Paradise In Augustines being known for musicals and Paradise In The Vault for new writing.
CC: How big is your Edinburgh team and how do you recruit them?
TPG: Around two-thirds of our volunteers are returners, with some people having worked with us for many years. We recruit early, with much of our team in place by March. We then top up the staff with a final round of recruitment just before the Fringe in June.
We encourage anyone to join our team and one of our values is to provide as many opportunities for people to work at the Festival as possible. We advertise across several universities and societies as well as 18-25 programmes all across the country to ensure we recruit a diverse group of volunteers who are passionate about the Fringe.
We are able to provide this opportunity to around 90 volunteers this year along with an excellent package including accommodation, home-cooked food, bar discount and lots of free tickets to see shows.
We're perhaps a bit different to other venues in that the company is owned by our members, all of whom are current or former volunteers here. We have around 75 members of the company and most attend our Annual General Meeting and elect our board. Everything we do has the best interests of our volunteers at heart with a strong emphasis on their welfare and progression within our organisation.
CC: What do you think performers should be thinking about when picking a venue?
TPG: Scrutinise the deal properly, making sure you know what is included and what isn't, to avoid unexpected surprises later on. We operate a straight hire fee model and our deal is all-inclusive, which means your venue costs are covered in advance and you can focus all of your attention on the important thing – your show.
CC: What are your top tips for companies performing for the first time – from a production point of view?
TPG: Think about your set. Venues will have shows running back to back, meaning you'll normally only have a really small window to get your set in and out each day before you perform, so less is definitely more.
Ask lots of questions and give us as much information as you can. We know your show will develop a lot before the Fringe, but keeping us updated and letting us know about anything new – even small changes to equipment, lighting or props – will save a lot of last minute panic when you arrive.
Although you'll be working really hard on your show, it's so important to have fun! We couldn't encourage you more to go out and experience everything the Fringe has to offer. See some shows and support your fellow performers.
CC: What are your top tips for companies performing for the first time – from a marketing point of view?
TPG: Start getting the word out early. Social media and ticket offers are great ways to get some buzz around your show in the first few days of the Fringe.
Flyering is by far the most popular marketing tool, but with over 3000 shows to compete with you need to find that unique selling point – we recommend a 20 second elevator pitch, special offers or a short performance to make you stand out.
The Fringe Society also hold some incredibly useful talks and events as well as releasing tonnes of tips for selling your show – so get reading!
CC: How has the Edinburgh Fringe changed over the years that you have been running venues?
TPG: The Fringe gets bigger every year in terms of the number of shows and audience members. Sadly, our building stays the same size so we constantly have to find new ways to be more efficient, so that we can continue to offer the same quality to our companies and visitors.
CC: What are the biggest challenges of running a Fringe venue today?
TPG: Despite having over 20 years of experience at the Fringe, the constantly evolving environment throws up new challenges every year. It's always the unexpected things that catch us off guard – this year, when the Fringe Society sent us a plastic pigeon, it was soon joined by a real one which definitely overstayed its welcome!
CC: What do you do the rest of the year?
TPG: We wish we could work at Fringe all year round. But we do actually all have day jobs. Tom designs control systems for offshore wind farms, Andrew is an accountant, Jemma is an arts fundraiser and Kayleigh is an events planner.
CC: What advice would you have for anyone who aspires to run a venue at the Fringe?
TPG: Running a venue is hard work, but incredibly satisfying. Seeing the doors open for your first show makes it all worthwhile and being part of the Edinburgh Festival Fringe is like nothing else. Despite the long hours, stressful days and tough decisions there are a community of venue managers who will always support you and are happy to share their experiences and war stories – especially if you buy us a beer or two!
LINKS: paradise-green.co.uk
---
---
READ MORE ABOUT: Paradise Venues
---
---
---
---