John Hastings: Audacity
By Chris Cooke | Published on Thursday 29 June 2017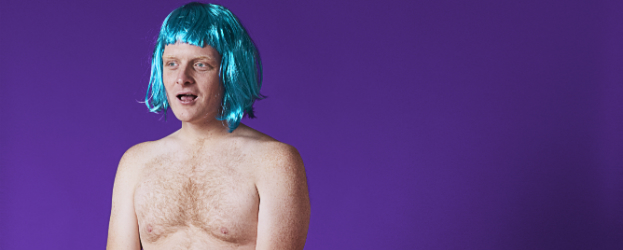 Canadian import John Hastings first caught our attention when he brought his first show to Edinburgh in 2012, and swiftly became what we might call a bit of a TW Favourite. He's back with his fifth show this time and we are expecting good things.
To find out more about John – and his bold decision to wear only pants in his publicity shots this year – I arranged to have a quick chat.
CC: So it's the big eleventh anniversary of your stand-up career! What made you first want to do comedy for a living?
JH: Oh fuck, it is. I feel like I have done this forever… or about forty-five minutes. I always liked comedy, and was an out of work actor, and then I started. BOOM! I knew this was for me.
CC: You began your comedy career in Canada. What made you decide to relocate to the UK?
JH: More opportunity, for sure. I wanted to travel without joining the army, and I wanted to watch the total collapse of Britain up close.
CC: You have done a number of Edinburgh shows now – does it get easier or harder as the years go on?
JH: This is number five. It does not get easier, it's just more manageable trying to figure out how to write jokes through the crippling fear of a guy from Dumfries not loving the show.
CC: Last year's show was very well received. Tell us about the London run, how did that go?
JH: It ruled. I'd never done a show not in Edinburgh. So it was fucking great. My gal came and got to hear about somebody else vomiting on my dick. It was all very exciting. I want to do this show everywhere! CALL ME!
CC: What can we expect from 'Audacity'?
JH: Detail? Poop jokes? Family Stories? All VINTAGE HASTINGS!!!!
CC: It's a famously risky business putting on comedy shows at the Fringe. But presumably you saved some money not buying any clothes for your press shots? Unless the underpants were very expensive?
JH: Mate, they were NOT, I snagged them from American Apparel as they went buh bye. It's very cynical, but that poster is a marketing ploy. Cause I have a naughty bod and both bros and gals wanna slice!!!! Or, more accurately, I look dumb and that's funny.
CC: You've done a number of projects with the BBC. What's been your favourite to date?
JH: Hmmm… doing stand up recorded at The Stand was an utter delight!
CC: Tell us about your podcast.
JH: I've got two. One I recorded in Edinburgh – 'Cab Volt 530' – where I tell stories and do improv and be a berk! Then there's 'The Wrestler Review', in which I, and far funnier comedian Dylan Gott, discuss different wrestlers' careers, and we are filth bag morons, and it's really fun.
CC: Why are so many comedians into wrestling?
JH: We are nerds, I guess? Why are so many assholes into football? It's just what we do. Also, it's a man dressed as a wolf fighting a man dressed like policeman from the future, so what's not to like?
CC: Now that you are something of an Edinburgh pro, what advice have you got for newer Fringe performers?
JH: You will cry once. Own it. Embrace it. Its part of the fun!
CC: And what about audience members? What should your audience be doing to prepare?
JH: Get them jaws ready for DROPPING YA SLAGS. You are not actually slags, you are all nice people.
CC: And finally, what are your top ambitions for your next eleven years in comedy?
JH: Say 'slags' less?
John Hastings performed 'Audacity' at the Pleasance Courtyard at Edinburgh Festival 2017.
---
---
READ MORE ABOUT: John Hastings | Pleasance
---
---
---
---