John Burns: Burns and the beast
By Dave Fargnoli | Published on Tuesday 31 August 2010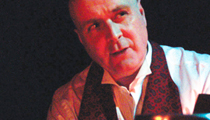 ThreeWeeks' Dave Fargnoli talks to John Burns about his one-man biography of occultist and magician Aleister Crowley.
I'm sitting opposite the Wickedest Man In The World. Okay, so it's just amiable actor/comedian John Burns, fresh from "washing the blood out" after a performance of his biography of Aleister Crowley, one of the 20th Century's most complex and controversial characters. "Complex is the word", John laughs, before telling me about the challenges of capturing the man who he embodies to such chilling effect on stage. "There's so much you can say about Crowley. You really have to work through the layers to separate the truth from the fiction. There are so many legends, lies and contradictions surrounding him, but a lot of the scandals were his own invention".
And there was plenty of scandal: Known as 'The Great Beast', cult leader and drug-fuelled libertine Crowley was apparently a prophet, a poet and an unrepentant cat-killer – the stories about him are endless, and aspects of his wild life still disturb audiences today.
"The play sometimes elicits a shocked reaction", John admits, "but it would be impossible to write a nice, safe play about Crowley. He was anything but, and lived the most chaotic sort of life possible".
While the play's certainly no defence of its subject, it does humanise him and Burns speaks with compassion about Crowley: "His life was ultimately tragic. He was a fantasist, and in the end, his arrogance destroyed him. But he was ahead of his time in many ways. There's a fine line between genius and madness and Crowley teetered on that line though in the end, he fell on the far side, the mad side". But Burns' subject was always self-aware. "He gloried in his infamy," states Burns, "and it makes him a difficult person to capture on stage".
I wondered if another difficulty with the piece might have been the transition Burns had to make from writing comedy to scripting a play.
"Even my comic material's always been serious, so it wasn't so hard to make that shift," argues Burns. "The real challenge was to distil down the significant facts and present as good a play, as balanced a view as possible."
All this impartiality makes me wonder if John has a special affinity with Crowley, or at least a more informed perspective than most; after all, the two men have more in common than you'd think. Both are published poets, both share a passion for mountaineering and both moved to the Highlands to pursue that interest, even climbing some of the same peaks. It was on one such expedition that their paths first crossed. "I first discovered him in the log book of the Inverness Mountaineering Club", admits Burns. "Crowley's still a celebrity up there, because he lived so close and because of his reputation. He's a sort of local anti-hero. There were plenty of people willing to talk about him, but a lot of their stories were nonsense, just parts of his myth, so I decided to try to get closer".
And he certainly did. After developing the play, Burns toured the show in the Highlands, following – sometimes very closely – in Crowley's footsteps. "One of the venues was in the village of Gorthleck, which is just over the hill from Crowley's former home at Boleskine", John tells me, referencing the sinister house later owned by Led Zeppelin guitarist Jimmy Page. "I did visit in the hopes of maybe 'finding' him. One of my more mischievous ideas is to go there and roam the grounds in full costume. I'll maybe mow the grass, stare down the garden path and be gone!" The glint in Burns' eye as he says this tells me he is only half joking – evidence of a little spark of Crowley's dark magic in John Burns perhaps?
Aleister Crowley's show 'A Passion For Evil' was performed at C Central during Fringe 2010.
LINKS: thebeastreturns.com
---
---
READ MORE ABOUT: C Venues | John Burns
---
---
---
---