David Colvin: Thunderstruck
By Caro Moses | Published on Sunday 15 August 2021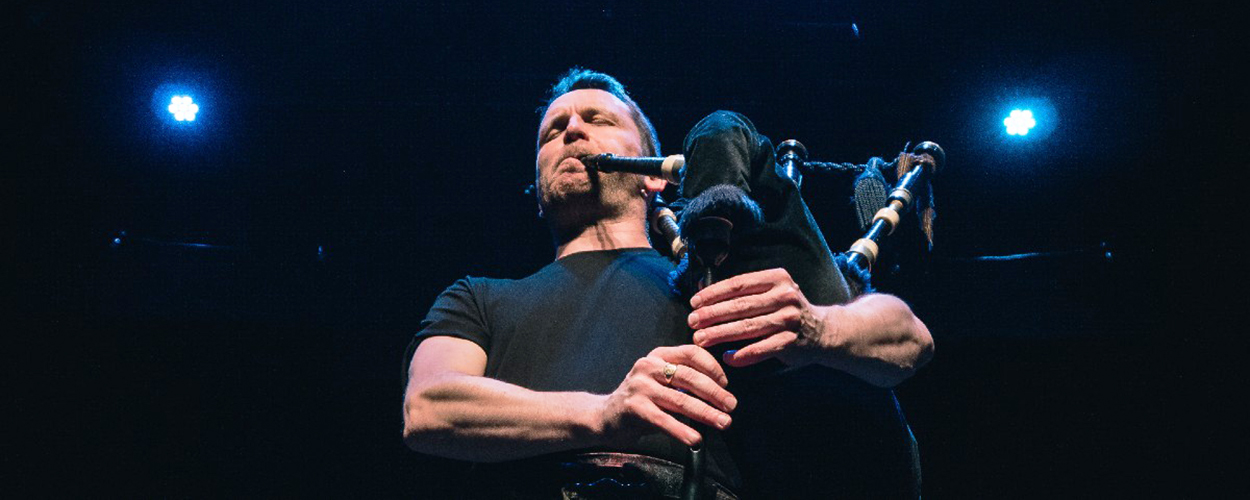 During the Festival month of August, the Scottish capital is flooded with voices and productions from all over the world, which is fabulous. But it's also fantastic to see more local work emerging and succeeding.
One such success is 'Thunderstruck', which won much acclaim back in 2019, continued on to Australia, and is back at the Fringe in 2021. It's a one man show about the life of extraordinary piper Gordon Duncan, written and performed by David Colvin, who you may well recognise as a member of the original cast of the internationally acclaimed 'Black Watch'.
I spoke to David to find out more about the show and its inspiration.
CM: 'Thunderstruck' focuses on the life of Gordon Duncan. To begin, can you tell us a bit about him?
DC: Gordon Duncan was a piper and composer, born in Aberdeen but raised in Pitlochry. From a young age he was a prolific prodigy on Highland bagpipes, though his compositions today are enjoyed by many instruments, such was his ability to compose a melody. A humble bin man by trade but a ferocious innovator when playing and composing for highland bagpipes.
CM: What was it that inspired you to create a piece of work with him in mind?
DC: As a piper who was around when Gordon was at his most innovative, I watched first hand as some traditionalists rejected his music while others embraced it. He was always a musical hero of mine, and so, in a way when I was piping he was always there or thereabouts, in my thoughts.
As an actor/writer what excited me was the conflicts in his life and how universal they were. Gordon's innovations were so earth shattering that it seemed to me, if I could give the audience a genuine taste of what it felt like at that time to hear him play, and in the process tear up bagpiping's strict military rule book, that would be theatre at its most epic and exciting.
CM: Have your own experiences as a piper informed the piece?
DC: There's a line in the play: "Endless jokes of strangling cats and wrestling octopuses". This derision of Scotland's national instrument is something I have tried to challenge every time I've played my pipes, and is something Gordon – and by extension the play – decisively throws out the window.
CM: What themes do you explore through the play?
DC: "Cultural confidence" is a phrase never far from my head, or that of director Tom. That our national instrument is capable of great subtlety and great beauty. Musical genius in unlikely places and how we as a culture look after that. Scotland's legacy of alcohol abuse, the history of Bagpipes, tradition vs modernity, and the transformative power of music. I should say it's also very funny! And a real insight into a world most people have never seen.
CM: Who will your show appeal to? Is it accessible for those with no previous knowledge of the subject…?
DC: I had no intention of writing a play just for pipers or folk musicians to enjoy. From the beginning and at every stage of writing I had, in my head, an audience entirely made up of those who know nothing of bagpipes. I wanted to take them to a world they'd never experienced and astound them with what they saw and heard. So they leave the theatre with, at worst, a newfound respect for the Great Highland Scottish Bagpipe, and a determination that should genius cross their path in any form, they, and Scotland, will look after it.
CM: I know that you performed the show at the Festival in 2019, to critical acclaim: what made you want to bring it back this year?
DC: 'Thunderstruck' is still growing, every time we've gone somewhere new we've started again with eight to ten people at the first show and every time we've sold out towards the end of the run and some have missed out on seeing us. Our popularity at this year's fringe is proof that we're still growing and will only grow further as more and more people see us and pass on their experience of seeing "the bagpipe play".
CM: What plans do you have for it in the future?
DC: The sky is the limit for this production. Scottish tour, we'd love that. Back to Australia, certainly. At some point I'd like to see us up against the big name productions in London and New York. I genuinely believe we have a play good enough to take either city by storm.
CM: Can we talk a bit about your past, now? Did you always want to be a performer? What steps did you take to forge a career?
DC: Being at high school in a mining village in Fife in the 1990s was not an easy place to grow up, especially if you're sensitive and like the arts. I was lucky enough – along with five or six close friends – to have had three wonderful teachers of music and drama. From those early school shows – 'Guys and Dolls' and 'South Pacific' – I was hooked, along with my twin brother, and together we set out to see if we could make a career of it.
I was offered a place at LAMDA in London but couldn't afford the fees and that route became closed to me. So I forged a career that started with am-drams in Cardiff, theatre-in-education-productions around the country, and cruise ship performances. Then, in 2006, I was offered a part in the brand new National Theatre Of Scotland's production of 'Black Watch'. A production which started at the Fringe. No big names, no star vehicle, in essence a story of working class Fife which became the biggest play in the world for two and a half years. Being part of that show is definitely one of the reasons why I believe 'Thunderstruck' has the potential to do something similar. As soon as people see it, they are blown away.
CM: What aims and ambitions do you have for the future?
DC: I tend not to have specific goals, that way leads to disappointment. I'll continue to work as hard as I can with 'Thunderstruck' and whatever else comes along, professionally. I'm already working with someone on a screenplay version of the story but that is still some way down the line and fraught with pitfalls, but I'll work equally hard on that. I'll continue to write working class stories, and hope that those new stories have the same resonance and heart as 'Thunderstruck'.
CM: The pandemic has had a negative impact on the arts as a whole, of course, but what about you? How have you got through it thus far?
DC: I was in Australia with 'Thunderstruck' when the world came to a stop; on the upswing of 'Thunderstruck's momentum. It was hard not to feel hard done by, but as my partner reminded me, it could be a lot worse.
During lockdown I wrote a lot, some good, some that needs more work. I was blessed that eighteen months later my health was intact and I had an award winning 'Thunderstruck', ready to go. Getting theatre back to where it needs to be is what we all should be working on in an ever more digital world.
We must never lose the cultural importance of storytelling, of being in the same room as a performer. Film and TV is a wonderful art form but theatre is different, there is a relationship between the stage and audience, a danger, an excitement that can not be replicated digitally.
CM: What's coming up next for you after this?
DC: A national tour next year, and an international tour in 2023. Then, something equally as exciting and fulfilling. The sky is the limit.
David Colvin performs 'Thunderstruck' at the Scottish Storytelling Centre until 29 Aug. See the edfringe listing here for info and to book.
LINKS: www.scottishstorytellingcentre.com | twitter.com/DavidPColvin
---
---
READ MORE ABOUT: David Colvin | Scottish Storytelling Centre
---
---
---
---