Chris Grace: Voldemort & The Teenage Hogwarts Musical Parody
By Caro Moses | Published on Friday 17 May 2019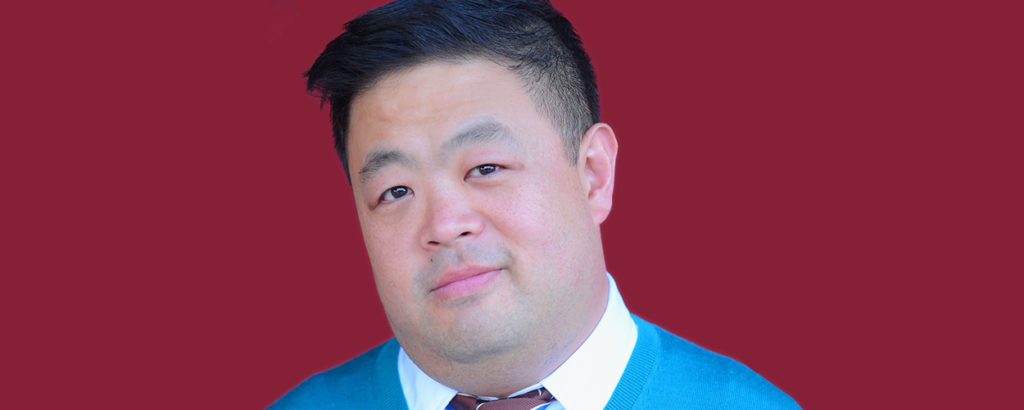 If you were paying attention at last year's Edinburgh Festival you might have heard about – or seen – a well-received show called 'Voldemort & The Teenage Hogwarts Musical Parody'. If you missed out in 2018, then celebrations are in order, because it's back at the Fringe again this year.
Long term edfringe improv fans will probably recognise the show's producer, Chris Grace, from his appearances with Baby Wants Candy, but you might also have caught sight of him on the telly, given his long list of US TV appearances. I wanted to know more about the play, and his career, so arranged to fire some questions his way.
CM: I think the title is quite helpful in explaining the potential content of the play… but can you tell us a bit about the narrative? What story does the show tell?
CG: Our show follows young Tom Riddle when he was a student at Hogwarts, before he was ever a super-powerful lord of darkness. He's got all the trials and tribulations of any teenager: trying to make friends, find love, get along with his teachers. He also has a snake that whispers to him in Parseltongue.
CM: I feel pretty sure that despite the source material, this won't be suitable for children. Exactly how family un-friendly is it?
CG: We have some profanity and we have some saucy jokes, so children should probably not come. That said, it's a guideline, not a restriction, and we had many audience members of all ages and no one seemed traumatised… it's all in good fun. But just to be safe, if the kids are just now reading 'The Philosopher's Stone', they might hear some jokes or words that are a bit adult for them.
CM: What is your role in the proceedings? How did you get involved?
CG: I'm the producer! I saw the show in Los Angeles a few years ago,and I'm good friends with the authors, and I thought it was a perfect fit for the Edinburgh Fringe. I've been coming to the Fringe for many years with Baby Wants Candy so I thought 'Voldemort And The Teenage Hogwarts Musical Parody' would be a great first project for me to bring to Scotland.
CM: Can you tell us a bit about the creators of the show..?
CG: Fiona Landers, Zach Reino, and Richie Root wrote the show. They are hilarious comedians from Los Angeles and they absolutely live and breathe the Harry Potter universe. I don't know anyone that knows more about that world than they do. Or who have more funny jokes to make about it either!
CM: …And also a bit about the cast?
CG: The cast is a stellar combination of US and UK actors. Some are returning from last year's successful production – I don't want to spoil who they are playing – and the others are bright-eyed British talents. Because of that, expect the accents to be a LOT better this year.
CM: And now, can we talk about you? And start at the beginning: how did you get into this career? Did you always want to be a performer?
CG: I have been performing improv since junior high school – so that's when I was thirteen years old. I studied drama at university, and then went to New York City to be an Actor – and the capital letter there is intended! Meanwhile I was dabbling in sketch comedy and stand-up, and eventually found a home in longform improv, which I've been doing ever since. In 2004 I was lucky enough to be cast in Baby Wants Candy, and in 2012 came to Edinburgh for the first time and fell in love.
I remember the first year I was at the Festival, I thought, "I will come to this every year for the rest of my life" and so far it's been true. I later appeared in '50 Shades! The Musical' with Assembly and co-wrote 'Thrones! The Musical Parody'… and in 2018 decided to dip my toe in the waters of being a producer. 'Voldemort' was a big success last year and I had to bring it back. This year I've partnered with Laura Elmes from Fat Rascal to co-produce and she's been amazing to work with.
CM: You do lots of screen work as well as live performance. Do you like them both equally?
CG: I do like them both equally. They tap into the same creativity but manifest in starkly different ways. It's a bit like rugby union versus rugby league.
CM: What aims and ambitions do you have for the future?
CG: I'd like to create my own television comedy, and write and/or direct a feature-length film.
CM: As you said, you're no stranger to the Edinburgh Festival. What keeps you coming back?
CG: I'm totally recharged by seeing art. I don't really party much, I don't even really socialise that much, I don't get much energy from hanging out or hiking up Arthur's Seat. The thing I love is finding a show to go to, especially if I don't know much about it, and then either seeing the best thing I've ever seen or possibly the worst. Either way I leave that theatre inspired to, as Neil Gaiman would say, "make good art". For that experience, there is no place in the world better than the Edinburgh Fringe. Also… I love Noodles & Dumplings on Clerk St. which is honestly some of the best Chinese food I have ever had anywhere in the world.
CM: What is your favourite memory of the festival?
CG: Waiting on the pavement to get into Daniel Kitson at The Stand, playing Sporcle games on a phone with my friends, none of us having ever seen him, and then seeing his amazing comedy, and then getting food from the disco chippy.
CM: Given your long experience of doing so, what advice would you give to newcomers re: surviving the Fringe?
CG: This is probably not healthy, but I think you should try to do and see as many things as possible while you are there, especially early in the month. Save your burnout/flu/depression until September. And here's my real pro-tip: if you socially obligate yourself to see someone's show – they are your friend, they saw yours and you promised you would see theirs – go see it as soon as possible. Saving six of those shows to see in the last two days is very un-enjoyable.
CM: What's next for 'Voldemort' after the Fringe run?
CG: We are touring! We will be at the King's Head Theatre in London just after the Festival, and in a few other cities to be confirmed very soon!
CM: What's coming up next for you? Anything new in the pipeline?
CG: I hope to return to NBC's 'Superstore' in the fall, and I'm in a few indie movies that should be coming out this year sometime!
'Voldemort & The Teenage Hogwarts Musical Parody' was performed at Assembly George Square Studios at Edinburgh Festival 2019.
Photo: Greg Crowder
---
---
READ MORE ABOUT: Assembly | Chris Grace
---
---
---
---