Andrew Bridge: For aartistic effect
By Caro Moses | Published on Thursday 4 August 2016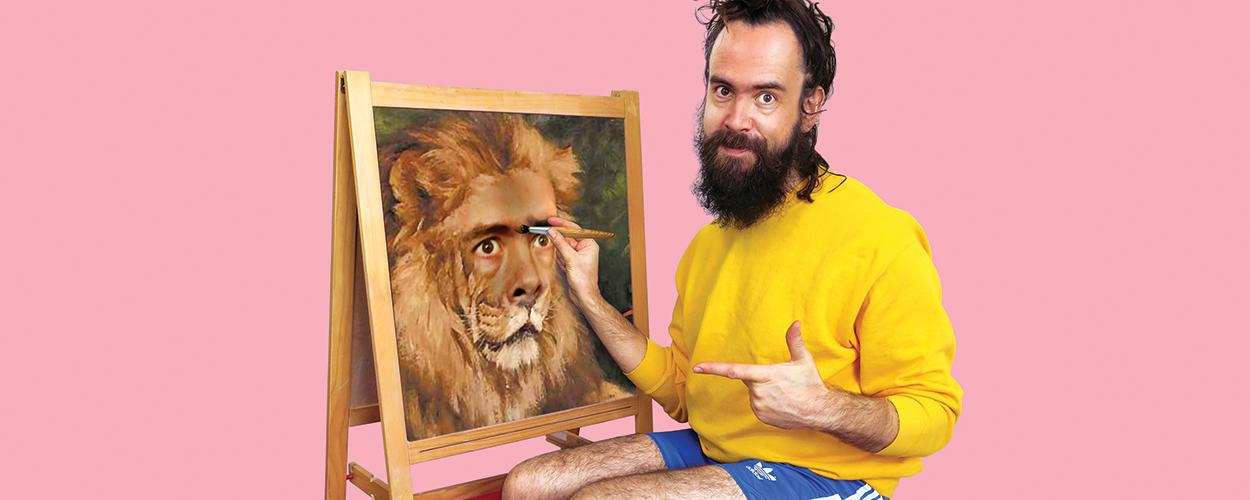 Meet Mikey, an aartist from New Zealand who wants to take you on a journey into the world of AART. Plasticine will almost certainly be involved.
Comedy performer Andrew Bridge brings both Mikey and 'AART' back the the Fringe this month, having presented the show as a 'work in progress' during last year's Edinburgh Festival.
We caught up with Andrew to find out more about the show, his Festival plans, and why Fringe comedy fans should be searching for their inner aartist.
CM: Tell us about the concept behind the show.
AB: 'AART' is a journey into AART, in every sense. First, you meet Mikey, and find out how he came to create 'AART', and hear first hand his explanation for it all. And then there is each audience member's own journey, as they confront their emotional creativity through unique mental and physical tasks.
CM: So, tell us more about Mikey.
AB: Mikey is an aartist from New Zealand. Born in the shadow of a volcano, with himself, some sheep and the local foot fetishist mayor for company. After a difficult childhood, he has made it his number one mission to travel to the UK – with his favourite sleeping bag – to make aartistic dreams come true.
CM: So, what happens in the show exactly?
AB: We cover a lot in each 'workshop'. 'Participants' will learn about Mikey's life and experiences, family dysfunction, the science of creativity, and plenty more from Mikey's unique perspective. It's a fun show, and – while I cringe slightly saying this – a lot of people have talked about feeling more positive and inspired after seeing it. It's completely un-British in that sense!
CM: Does Mikey himself have an objective for each 'workshop'?
AB: Yes, Mikey's mission is to trigger a domino effect of enlightenment in people that spreads over the entire planet resulting in global peace. Oh, and to give people the opportunity to play with plasticine again.
CM: So the audience gets involved?
AB: Mikey has spent a lot of time putting this workshop together, so please be gentle with him! He's drawn pictures and everything. Mikey engages with the audience to help them realise their goals, re-connecting with the person they always thought they could be and everyone goes home with a free badge.
Anyone who has ever been forced to take part in a workshop through their job will understand that there is a rich seam to mine here for comedic purposes. Though the show is as participatory as the individual wants: you can fully engage or sit at the back bitching about it on Twitter. So a bit like a real-life workshop!
CM: The show was still a 'work in progress' at last year's Fringe, but got a great response nevertheless. How has it evolved since then?
AB: 'AART' is much like the form it honours – ever changing and vital! Since last year, writer Jay Moy and I worked to further develop 'AART', and then TV director Kat Hoult boarded the ship too and the show has turned itself inside out. The result is something we think is really fun and rather memorable. 
It's moved on a lot from last year, so do come back loyal punters! And we're at the Pleasance this time. At one point last year I was performing in the bowels of an Irish Bar retrieving plasticine from a pack of 30 lagers! 
CM: It looks like you've got a very busy Fringe this year – because you're involved in other shows too?
AB: Yes, I'm in three shows in total – so busy-ish but fun. There's Anna Mann's 'Sketch Show For Depressives' by Colin Hoult at Pleasance Below at 7pm. It's a show I would definitely like to see numerous times were I not messing around in it myself, so that's worked out quite well.
Meanwhile 'Community Matters', with Dave Edwards at the Monkey Cellar at 8.45pm, is a show Dave and I started meddling with last year. It's based around a deluded community leader and his guests. There's no laying on of hands this year, but needless to say Edwards enjoys an even more fitting finale.
CM: What about Mikey – has he got any other plans for during the Fringe?
AB: Well, Mikey wants to stage one of his mass participation art events in the city. I can't say too much about it at the moment, but keep an eye out. Especially if you're at the Tattoo.
CM: And finally, once this Fringe is done, where next for 'AART'?
AB: Well, wherever the Megabus goes, Mikey, and his favourite sleeping bag, goes too!
'AART' was performed at Pleasance Courtyard at Edinburgh Festival 2016.
LINKS: andrew-bridge.com
---
---
READ MORE ABOUT: Andrew Bridge | Pleasance
---
---
---
---