Promote your shows with ThreeWeeks
Find out about advertising opportunities at Edinburgh Festival 2019
---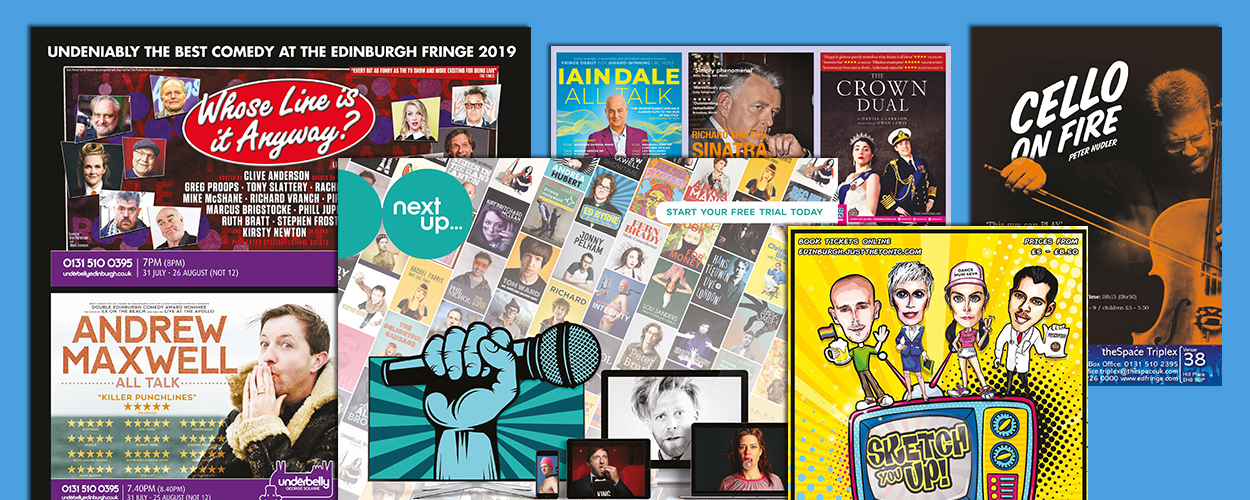 ---
---
---
ONLINE, IN VENUES AND DIRECT TO 1000s OF EDINBURGH HOMES
USE THREEWEEKS TO SELL YOUR SHOWS THIS FESTIVAL
ThreeWeeks will return to the Edinburgh Festival for the 24th time this August, once again providing great coverage of the world's biggest cultural event, in print and online.
There will be two editions of the popular ThreeWeeks print magazine in 2019 – a preview edition packed with show recommendations published in late July, and a review edition full of our Fringe reviews out on the Wednesday of Week Two.
The preview edition is distributed to the homes of 20,000+ residents across Edinburgh, direct to the all-important local audience of ticket buyers. It is also available to pick up from all the key Festival venues as they open for business.
The review edition will be available from our stands at all the key Festival venues, plus will be dropped off to numerous cafes and bars around Edinburgh to be read by festival-goers as they are deciding which shows to see.
Adverts are available in both print editions, plus you can also buy banners on the ThreeWeeks website and in the daily ThreeWeeks email bulletin, which reaches over 10,000 inboxes every day.
Rates are given below. For more information or to book call 0131 516 8842 or email TWadvertising@unlimitedmedia.co.uk
---
---
FESTIVAL 2019 RATE CARD
PREVIEW EDITION OF THE THREEWEEKS MAGAZINE
available at all key venues as festival kicks off and direct distribution to homes of 20,000+ residents
Back page (280mm across x 350mm high) – £1500
Inside Front (280mm across x 350mm high) – £1000
Full Page (280mm across x 350mm high) – £800
Half Page (260mm across x 140mm high) – £400
Quarter Page (you supply your A5 flyer) – £300*
Sixth Page (you supply your A6 flyer) – £250*
REVIEW EDITION OF THE THREEWEEKS MAGAZINE
available at all key venues and in cafes/bars across Edinburgh from 14 Aug
Back page (280mm across x 350mm high) – £1250
Inside Front (280mm across x 350mm high) – £900
Full Page (280mm across x 350mm high) – £700
Half Page (260mm across x 140mm high) – £300
Quarter Page (you supply your A5 flyer) – £250*
Sixth Page (you supply your A6 flyer) – £200*
THREEWEEKS DAILY EMAIL
landing in the inboxes of thousands of festival-goers daily from 30 Jul
Banner ad (600 pixels across x 80 pixels high) – £80 per week (seven editions)
THREEWEEKS WEBSITE
with new content daily from 30 Jul
Side-bar banner (300 pixels across x 125 high) – £80 per week with at least 25% share of the spot
All prices are per advert per edition and exclude VAT
Full payment required on booking by BACS or credit card
All ad sizes are provided width x height
*You supply your main flyer design (front) – your ad will be slightly resized to fit the page but proportions will be kept the same
For more information or to book call 0131 516 8842 or email TWadvertising@unlimitedmedia.co.uk
---